Ryobi 3300 Psi Pressure Washer Review
High Performance Pressure Washer
This pressure washer is a new Ryobi 3300 PSI Honda Pressurewasher that I have used for several projects around my house. It has been used to remove Lichen moss from siding and mildew, as well as algae and mold off concrete patios and decking. The compact dimensions and light weight of the pressure washer were immediately apparent from the moment it arrived in the package. For me, I like the Honda engine. Small Honda motors have been my favorite for years.
The Honda engine is easy to start and runs smooth. One thing that would be nice on this unit is a larger gas tank. The unit will run approximately 45 mins to 1 hr on a tank of gas. With such a huge project I noticed that I was refueling far more often than I planned.
The first and hardest task that the Ryobi 3300 PSI Honda Pressure Washer was used on was cleaning siding and removing stubborn lichen moss. Because lichen can be difficult to remove, the pressure of 3300 PSI worked well. A combination of the pressure and the 40 degree nozzle worked great.
Ryobi's 18-foot pressure washer extension was also helpful in reaching higher siding. This is a great extension for siding washing and reduces the need for ladders.
NOTE: It's really important to follow the siding manufactures guidelines for pressure washing so you don't damage the siding. Vinyl siding should not be washed at an angle that allows water to seep behind. This siding is protected by a rainscreen and well-sealed building wrap to prevent any water damage.
Cambara hardwood decking was next on the agenda. It hadn't been maintained in years. You can see that the decking had a lot of mildew on it. It is possible to cause damage by pressure washing wooden decking. The pressure washer was placed on the 40-degree nozzle at 8 feet from the wood surface. The washer was able to remove all buildup from the surface and not damage the wood.
I also treated mildew around the concrete patio. The pressure washer did a great job and didn't damage the surface.
Overall Impression Ryobi 3300 Psi Honda Pressure Washer
My experience with the Ryobi 3300 PSI Honda Pressurewasher was great. It has large wheels that are 10 inches in diameter and can easily roll over uneven terrain. The compact design makes it easy to store away when it is not being used. A Honda engine with a 187 cm capacity produces plenty pressure, making it ideal for homeowners.
This pressure washer includes a builtin soap dispenser and 5-in-1 quick-changenozzle. This pressure washer is a fantastic value for money, particularly with its Honda engine. You should look into this compact, powerful pressure washer.
3300 Psi Honda Gc190 Gas Pressure Washer
Buy Now The RYOBI 3300 PSI Pressure Washer is engineered to handle the toughest jobs featuring a powerful Honda GC190 engine and axial pump to deliver 2.4 GPM. This 35ft. long, non-marring high-pressure hose is 40% longer than the previous model. Additionally, it has a 5-in-1 fast-changeover spray nozzle that allows you quickly to adjust your cleaning patterns. The wheel barrow frame design and large 10 in. The flat-free wheel design and large 10 in. diameter wheels offer increased durability. Additionally, the compact handle makes it easy to store when you're done. The RYOBI 3300 PSI Pressure Washer comes with a limited 3-year warranty as well as a 2-year engine guarantee.
Ryobi Ry80942 3,300 Psi 2.3 Gpm Cold Water Honda Gcv190 Gas Pressure Washer
Last modified date: August 6, 2019, Why trust DWYM
DWYM has been a trusted source of product reviews. Along with our in-house experts, our team analyzes thousands of product reviews from the most trusted websites. Then, we create an easy-to-understand overview.
Look for the DWYM seal for products that are the best in the category.
Features Specifications From The Manufacturer Expert Reviews Overall Ranking Our Ryobi Pressure Washer Buying Guide Our Ryobi Pressure Washer Tip and Advice Check Price
After comparing the Ryobi Pressure Washers, we analyzed the user reviews on some of the most well-respected review sites. This analysis has helped us determine which Ryobi Pressure washer is the best.
Last update: August 28, 2020
This is the Best Ryobi Pressure Washer. It contains a comprehensive review of every top Ryobi Pressure Washer.
You Can Buy Here
The Home Depot is the sole big-box retailer of Ryobi pressure washers.
However, you can also buy them online at Amazon.com.
For Ryobi, there are only three Home Depots we've been to. They have 2 electric and 2 natural gas. Other options will require you to pre-order them. That's nothing major, but worth noting.
Amazon has many of these options. Some are however sold out occasionally.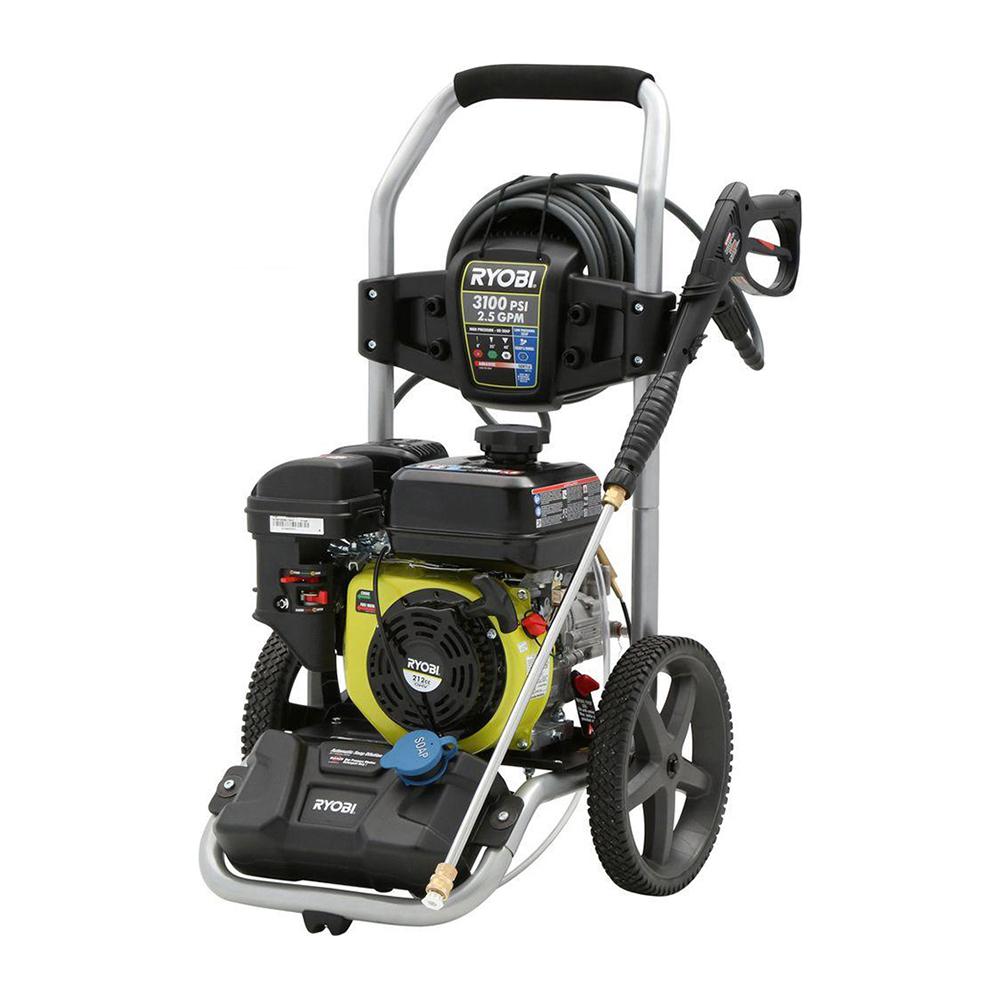 How Do I Actually Start Using My Pressure Washer?
Here are the steps for getting started with your pressure washer (assuming that it's an electrical model) after you've assembled it.
Attach nozzle to end of spray wand lance.
Attach garden hose and pressure hose to pump inlet and outlet.
Simply plug in the outlet to your electrical wall.
For full water flow, switch on your garden hose.
Pull trigger on spray gun for 15 seconds (you should see a low pressure stream of water coming out the nozzle).
The on-button will turn the pressure washer on.
Cordless pressure washers?
Recently, a couple of companies have released cordless pressure washers. Small models, rated at roughly 750 psi and below, have been available for a while, but these new washers look to be competitors to the full-size electric models, boasting pressure numbers of 1,000 psi or more. These washers come with portable water sources and provide pressure washing that is completely untethered (although they are also able to hook up to an extension hose). This could appeal to larger people, or to anyone who wants to carry their pressure washing equipment on the road in order to wash a car or boat. We tested the Ryobi RY40PW01DG9 Cordless Pressure Washer 40V 1500 PSI in early 2021. While we liked a lot about this unit, there were some limitations that prevented us from recommending it to others.
The included Ryobi 40-volt battery power this Ryobi cordless washer. The washer can only be run on one of the included 40-volt batteries. However, it will produce a reduced running time. Ryobi calls the washer a 1500psi washer, although it is actually a model with a 1,000psi running. When you press the "boost" button on the front, it can achieve 1,500 psi. It then cycles back down to 1,000 psi after eight minutes. It ran approximately 33 minutes with the full 1,000 PSI level of batteries.
It's decent in terms of cleaning power. However, Ryobi will have to struggle with hard jobs. The mildew was removed from one side of our house easily, however it took us a while to scrub the grates of our grill. We were able to do that with the Ryobi Top Pick and De. Walt runner-up.) It has a very good build quality. It's compact, and the battery compartment, on/off switch, and boost button are nicely waterproofed with either clear rubbery coverings or thick gasketing. You can easily transport and load the unit using the handle that telescopically opens.
.Ryobi 3300 Psi Pressure Washer Review